Brain Food
Jun 09
"We describe that the deleterious consequences of unhealthy dietary habits can be partially counteracted by dietary supplementation of n-3 fatty acid. High sugar consumption impaired cognitive abilities and disrupted insulin signalling by engaging molecules associated with energy metabolism and synaptic plasticity; in turn, the presence of docosahexaenoic acid, an n-3 fatty acid, restored metabolic homeostasis. These findings expand the concept of metabolic syndrome affecting the brain and provide the mechanistic evidence of how dietary habits can interact to regulate brain functions, which can further alter lifelong susceptibility to the metabolic disorders." —
May 27
Black Bean Brownies with a Kick!
I've made a few version of black bean brownies now, and I can report truthfully that you'd never know there were beans in them.  If you like your brownies fudgy textured, these are for you.  (I personally prefer the chewy side of things, but haven't yet succeeded there.  The health benefits of these are worth it, though!)
This 101 Cookbooks recipe is the most recent recipe I've based my favorite variant on, because it doesn't use bananas and doesn't use white sugar.  I modified it to make it 8x8 pan sized, as well as a few other taste/spice mods below.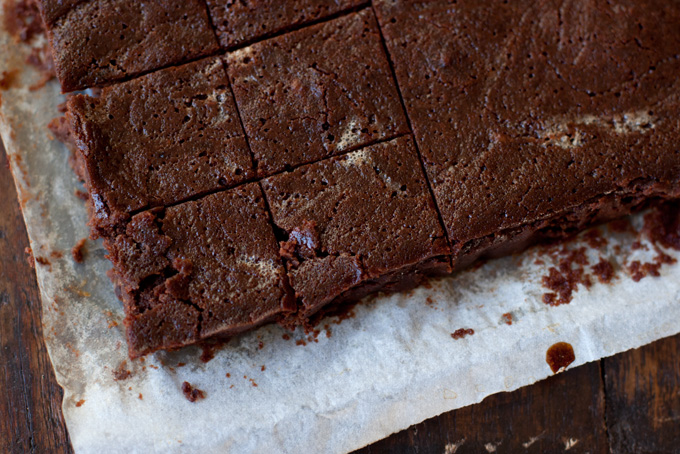 Ingredients:
3 ounces bittersweet dark chocolate
1/3 cup of coconut oil (or butter if you prefer)
1 can black beans (drain/rinse)
1/2 cup walnuts
1-2 T. of instant coffee (beware; I did 2, and these things wake me up!)
3 large organic eggs
scant 1/4 c agave syrup
scant 1/4 c molasses (for the vitamins and taste)
1/4 c sorghum flour or other gf flour (I also added 1/4 tsp xanthum gum)
1 tsp cinnamon (to taste)
1 tsp vanilla
Preheat oven to 325 degrees, and spray or line an 8x8 pan.
Melt the chocolate and oil in a double boiler.  Let it cool a little, then put it in the blender with the beans.  
Mix up the eggs and sugars in a mixing bowl.  Add everything else — including the bean and chocolate mixture.  Put in the nuts at the end. 
Taste it to make sure you have the right coffee and sugar balance for yourself.
Bake about 30 mins, but keep an eye on it.  The top gets lighter brown as it cooks, and you can test it with a toothpick.
Eat cautiously: like, maybe not right before bed, depending on how much coffee you add!
What Makes These Brain Food?
These are generally low glycemic index and the gluten-free-ness plus cinnamon will be anti-inflammatory for many folks.  Chocolate has anti-oxidants, as we all know. Black beans are full of vitamins and amino acids that may help with mood, including tryptophan (precursor to seratonin) and phenylalanine (an "upper" for some). They have an "impressive array of antioxidant and anti-inflammatory phytonutrients" (ref).
The benefits and risks of coffee and caffeine are under debate right now (e.g., this Mayo clinic summary); coffee itself has anti-oxidants, and caffeine has been found to help fight dementia in mice (those poor mice) and improve test scores in humans.  I'm pro-caffeine and coffee, myself.  YMMV.
May 25
"Inflammation is partly regulated by the hormone cortisol and when cortisol is not allowed to serve this function, inflammation can get out of control," said Cohen, the Robert E. Doherty Professor of Psychology within CMU's Dietrich College of Humanities and Social Sciences. Cohen argued that prolonged stress alters the effectiveness of cortisol to regulate the inflammatory response because it decreases tissue sensitivity to the hormone. Specifically, immune cells become insensitive to cortisol's regulatory effect. In turn, runaway inflammation is thought to promote the development and progression of many diseases." — How Stress Influences Disease: Carnegie Mellon Study Reveals Inflammation as the Culprit
May 24
A beautiful brain image, from explore-blog:
Human hippocampus stained with a method pioneered by Italian physician Camillo Gogli in 1873.

Golgi discovered a chemical reaction that allowed him to examine nervous tissue in much greater detail than ever before. For some reason, hardening a piece of brain in potassium dichromate, and subsequently dousing it with silver nitrate, dyed only a few cell bodies and their respective projections in the tissue sample, revealing their complete structures and exact arrangement within the unstained tissue. If the reaction had stained all the neurons in a sample, Golgi would have been left with an unfathomable black blotch, as though someone had spilled a bottle of ink. Instead, his technique yielded neat black silhouettes against a translucent yellow background.

More in Scientific American's Know Your Neurons series.
(Source: , via neuroimages)
May 21
Salmon (or Tuna) Stewed With Lentils
A fish recipe summarized from Ferran Adrià's beautiful cookbook, The Family Meal.  I make it with tuna rather than salmon, but the original says to use salmon.  I've made this 3 or 4 times now, including for family holidays, and it gets great reviews.  
Salmon or Tuna Stewed with Lentils (For 2):
salmon (or tuna) steaks
parsey sprigs
olive oil
fish stock (1.75 cups)
canned lentils drained (1.25 cups) or cook your own!
salt (pinch)
Sofrito  (1 T or to taste) — see below
Picada (2 tsp, I use more for brain health) — see below
Cook oil and sofrito in pan for 1 minute.  Pour in stock, add lentils.  Add picada and simmer 10 minutes.  Carefully put cubes of raw salmon (or seared tuna) in stock.  If they are totally raw, after 1 min, turn them. (If you pre-seared tuna, as I do, this isn't necessary.)  Stir in fresh chopped parsley.  Serve.
The "hard" parts are the sofrito and picada, also where the main flavor components lie.
Sofrito is a much reduced tomato sauce with finely cut onion/garlic/olive oil.  I approximate for speed by using tomato paste plus a lot of garlic and onion. In some places (like MA), you can buy it in jars.  (You can find a full recipe for it from Adria here.)
Picada is not so easily approximable, but can be made and frozen:
For 1/2 cup of picada:
1 tsp saffron
garlic cloves - 1 or to taste (I use 2-3 or more for health/taste)
parsley leaves, chopped - 2/3 cup
toasted blanched hazelnuts (or almonds) - 1/4 cup
Very lightly warm the saffon in aluminun foil in a pan for a few seconds.  Then mix everything in a small food processor, to get as close to a pesto-y sauce as you can.  You can freeze this, or use it right away.  (I notice some versions of this recipe call for bread crumbs, but Adria's does not.)
To increase your heart-brain health value, sear your tuna steaks with sesame seeds before throwing them in the lentils and broth at the end.  That's how I do it!
Important footnote:
If you want the original recipe (sans all the gorgeous photos), I found it online. The photo above is served from that recipe.
What Makes This Brain Food?
Omega-3 in fish and nuts, as well as the sesame seeds if you use the seared tuna method. Garlic and parsley are anti-inflammatory. Lentils are full of nutrients like B vitamins, protein and fiber, and also may help your glucose levels, good for mood as well.
May 19
The Alzheimer's Gene Weakness
New research findings suggest how the ApoE4 Alzheimer's gene leads to brain plaques.  If you're new to the topic, having one or two copies of the ApoE4 variant renders you magnitudes likelier to have Alzheimer's.  (You can get tested for the gene variant on a site like 23andme.com, as I did.)
The precise behavior of ApoE4, as opposed to the behavior of the non-threatening ApoE3 and E2, hasn't been understood until now.  In this week's summary of the new research from the NIH website:
The researchers found that mice whose bodies made only ApoE4, or made no ApoE at all, had a leaky blood-brain barrier.  With the barrier compromised, harmful proteins in the blood made their way into the mice's brains, and after several weeks, the researchers were able to detect loss of small blood vessels, changes in brain function, and a loss of connections between brain cells.
Luckily, there are potential new drug targets indicated by their research that strengthen the blood vessels. 
This is huge news.
The original research article appeared in Nature (and was picked up all over the science news and blogs this week).  I only hope those mice really have brains like humans, because they're our guinea pigs for all of this work. :-)
Blueberry Almond Muffins for Brains
I based this recipe off a few almond-meal muffin recipes, especially So Good and Tasty's Cherry Almond Muffins.  I've made them twice now, and yum!
1 cup almond meal
1 cup oat flour
1/4 spelt flour (you could replace the oat/spelt with others of your choice)
1/2 tsp. xanthum gum (replacing gluten)
1/3 tsp salt
1/2 tsp baking soda
1 tsp baking powder
1/4 cup flax seeds
cinnamon, nutmeg, cloves to taste
1/4 sugar or sugar replacement to taste (agave is nice)
2 organic cage free eggs
1/2 cup milk (or almond milk)
1/4 cup applesauce
1/3 cup coconut oil
As many blueberries as you can stand!
Mix dry, then the wet into them. Add blueberries.  In my opinion, if you did it right, they come out blue like in my picture above.
Cook in lined muffin tin at 350 degrees for about 20 mins, till browning on top.  (Test them first.)
This makes 12 muffins.  They freeze wonderfully.  Don't let them sit uneaten for too long, the flax gets a little weird if you do.
What Makes Them Brain Food?
Almonds, blueberries, low or no gluten (if you have inflammation-related sensitivity), omega-3 in the eggs, Vitamin D in the milk, anti-inflammatory spices, medium fatty chain acids in coconut oil. Low sugar, low glycemic index overall if you avoid white flour too.
May 18
Bacteria and You: Dirt, Guts, Cats.
A handful of interesting articles about bacteria affecting your mood or behavior, making me wonder who is really in charge here. 
Probiotic bacteria changes behavior in mice: for the "gut-brain axis" fans,
 The bacterial menu changed the levels of signalling chemicals in the rodents' brains, and reduced behaviours associated with stress, anxiety and depression. 
Source of probiotic bacteria: kefir, tempeh, miso, kimchi, sauerkraut… Check out a good list here.
Soil Bacteria Work In Similar Way To Antidepressants:  Mice who garden are happier. 
Researchers from Bristol University and University College London discovered using laboratory mice, that a "friendly" bacteria commonly found in soil activated brain cells to produce the brain chemical serotonin and altered the mice's behaviour in a similar way to antidepressants.
As an added bonus, bacteria in dirt have anti-cancer skillz, too: 
Cancer breakthrough: scientists discover harmless bacteria in soil kills cancer tumors
Finally, there are those weird bacteria that get in your cat-owning brain and make you do things for their reproduction.  Science fictional bacterial reign.  Here's that famous How Your Cat is Making You Crazy article in the Atlantic.
Rosemary Oil and Concentration
Apparently aromatherapy isn't all in (someone else's) heads — cognitive performance went up in a study of the benefits of smelling rosemary oil during work tasks:
I've now tried this myself, actually, and I think I do get more done in more focused bouts with a teaspoon of rosemary oil bubbling nearby.  I light that candle when I'm working from home, and it's been very pleasant and productive.
Welcome / About This Tumblr.
My family history is lousy with depression, Alzheimer's genes (ApoE4) and expression, diabetes, high cholesterol, general health issues related to inflammation and crabbiness.  The older I get (and the older my parents get), the more I feel I have reason to pay a lot more attention to this.
I've been collecting links on brain-related research for a while now, and I stepped it up a lot in the last year.  I also started cooking more, and pretty soon food and brain research felt more and more related.  So I'll post a mix of recipes with brain-healthy ingredients and brain-related research here, and cross-post most or all my links to twitter at @brainfeeding. 
My sources: Prismatic, Google alerts for various brain science research results, twitter feeds I follow, and general recipe scavenging/modifying/creating.
If you want to follow the raw firehose of brain-related research, I save it on my delicious tag "brain": http://www.delicious.com/arnicas/brain